Oh, I've been so excited for this post!
Let me give you a little back story: In June of 2015, my husband Ryan and I purchased an 1878 AME church located just off Main Street in Historic Downtown Madison Indiana. We had many ideas in our head of what we wanted to do with the space. One definite was a studio for my photography business. And it has been so wonderful to have an indoor space to shoot in when it's raining or just plain freezing outside. We also wanted to be able to rent it out for events. We pictured beautiful wedding showers and baby showers, intimate rehearsal dinners, and even birthday parties. We also tossed around the idea of a wedding chapel. Madison has some pretty amazing churches and wedding venues, but nothing quite like this, so we had to move forward! We will offer 5 affordable wedding packages, to fit all your needs, and help with as much planning as possible! Some of them include my photography, some have some delicious cake from The Sweeter Life, and some come with beautiful fresh flowers from The French Tulip, formerly Ivy Vine Florist. So Ryan and I knew we had to have a mock wedding in order to show our 'vision' of what a wedding would be like. We are so thankful to friends who traveled to help, who pulled their wedding dress out of the vacuum sealed box and played the roll of bride and groom perfectly! For more information about event rentals and wedding packages, you can visit our website:  Poplar Place Studios. The days we have available for 2016 weddings are: July 9th, August 6th, September 10th, October 8th, November 19th and December 10th.
Now, let's get on with some pretty pictures 🙂
Here is our venue! So much beautiful natural light from eight 9′ tall windows. A rustic backdrop with barn wood wall, vintage doors, and dramatic lanterns. Custom built benches really make it feel authentic and can hold up to 40 of your closest family and friends.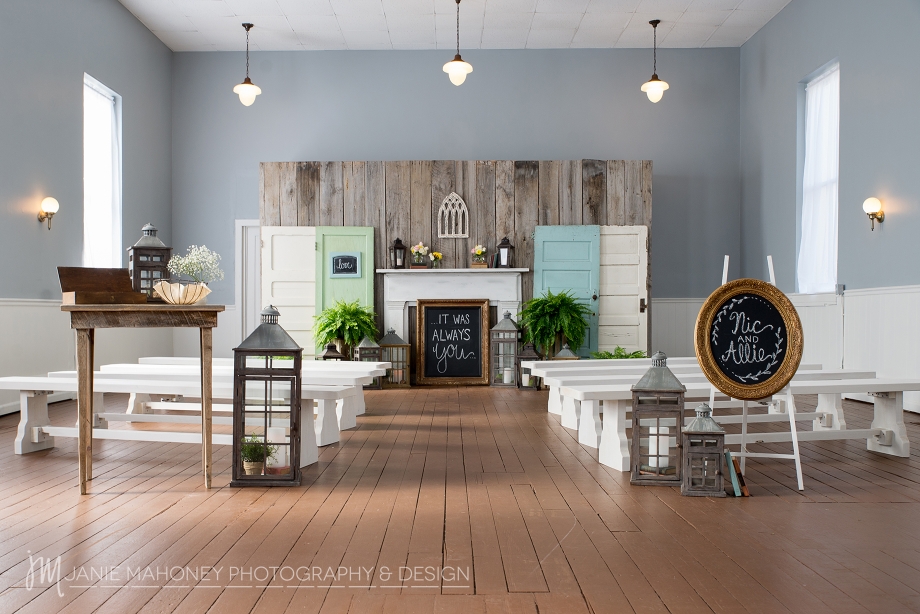 We loved the idea of being able to leave notes to the happy couple. Here we will have notecards for best wishes.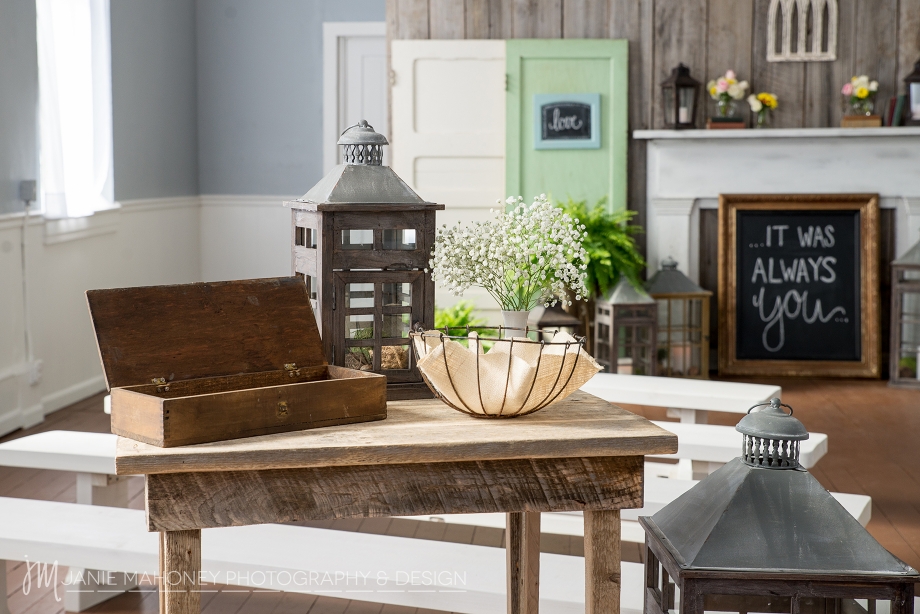 Customizable chalkboards that can say anything you'd like.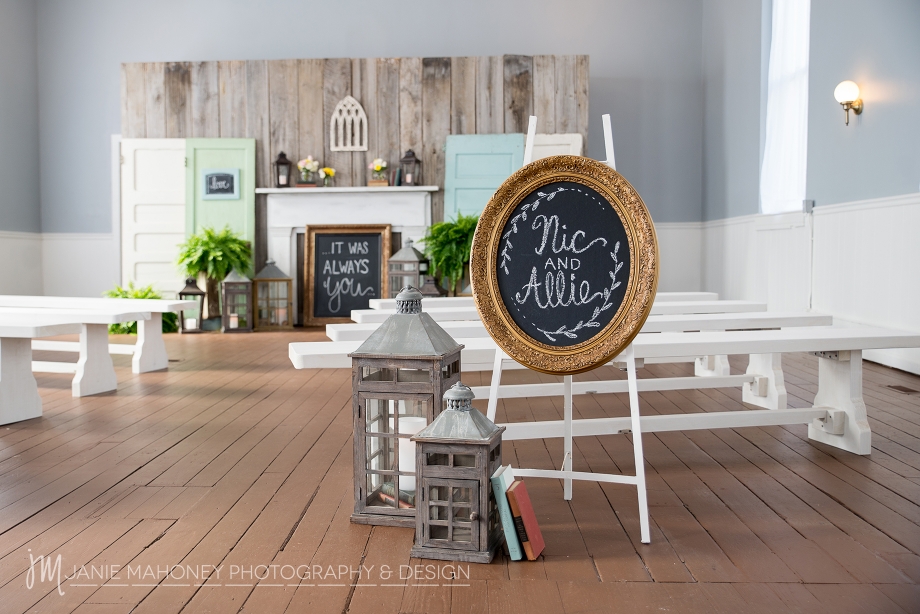 Two of our packages include a fresh floral bouquet and boutonniere from The French Tulip, formerly Ivy Vine Florist. Here we have the pastel option, the white and green option and the bold color option.

If you choose one of the other three options, this beautiful silk bouquet is available for you to use, as well as a silk boutonniere to match. You can't believe this is silk?? I couldn't either! It's so amazing in person!

Here is the pastel option. Perfect for spring or summer weddings.

And the bold color option, which would be beautiful for a late summer or fall wedding.

And the beautiful white and green option, perfect for any time of year!

Matching boutonnieres. Silk boutonniere is the top left one.

What an amazing view of the ceremony space from above. This is looking out of our bridal suite!

I love that we have a space for the bride to get ready, and spend time with her family and friends before the ceremony. It's a bright and airy space, with beautiful vintage chic décor. We have a full length mirror, and a sitting area with a tri-fold mirror that is perfect for make up and hair touch ups.


A large church window provides so much natural light.



Another unique option is a professional cello player for your ceremony.






If you choose The Broadway or The Lanier package it comes with a cake and punch reception. You'll have this delicious chocolate and vanilla two tiered cake with buttercream icing, made by an amazing local baker, The Sweeter Life.

Sweet tea and lemonade are available with the cake and punch receptions.

One more picture of this cake 🙂


Three of our packages include photography by me! And I make sure to capture it all…from bridal prep, ceremony, group and family pictures and then bride and groom pictures. We will take some inside, and then if the weather permits, we will wander the beautiful streets and alleys of downtown Madison.




Thanks for sticking with me until the end of the post!! If you have any questions, or would like to book your very own wedding at Poplar Place, please don't hesitate to call or email. We look forward to hearing from you!